Never Let Your Ink Run Dry
Find the Best Ink & Toner Cartridges for Your Printer!
What's the Difference between Printer Ink and Toner?
Ink and toner are both terms often associated with printing, but many people can't determine the difference between the two – so what is the difference between ink and toner, and which one is better?
Buy high-quality ink or toner for your office printers from the experts at Up and Running Now.

Ink is used in inkjet printers, and it is color-tinted liquid which use tiny nozzles to eject color onto paper. Toner, however, is a fine polyester-based powder most often used in laser printers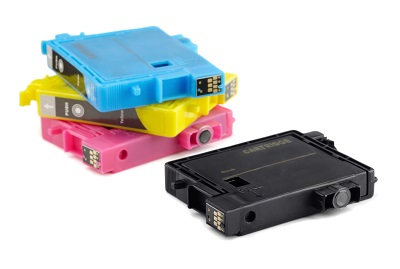 and is primarily manufactured in black. Ink is preferable when printing in color since the liquid adheres to paper better than toner, but toner in laser printers is better when printing text-heavy documents that don't require pictures. Laser printers with toner tend to work much faster than inkjet printers, but depending on what your exact needs are, both types of printers have many benefits.
OEM, Retrofitted, and Refurbished Printer Cartridges for the Office
Replacing old or empty printer cartridges is an annoying hassle for many office workers – that's why the experts at Up and Running are here to help. Our online store offers a huge selection of printer, fax and copier ink and toner for offices all over the United States, and each type of cartridge is retrofitted for all major brands of printer. No matter if your office uses HP, Canon, Dell, Konica Minolta or Lexmark printers, Up and Running can supply you with the exact ink and toner cartridge you needs.
Don't want your printer cartridges to go to waste? The team at Up and Running will get rid of your empty cartridges for you at no additional cost. Using refurbished toner cartridges will reduce cost, eliminate waste and help save the environment – make sure you do your part by using refurbished printer cartridges for all your office printing devices.
Up and Running is the leading printer repair service and office supplier for workspaces all over southeast Wisconsin, and our team of hard-working professionals can help you with all your printer ink and toner needs.
*Note: You will be redirected to our shopping site